This recipe comes from our very own Mellisa or as you might know her thescrapbookexchange. It is a family favorite that everyone enjoys!
Rolled Hot Dogs aka... Heart Attack on a Platter:)

INGREDIENTS:
All Beef Hot Dogs
Dill Pickles (Sliced lengthwise same length as hot dog)
Velvetta Cheese - (sliced into long strips same length as hot dog)
Bacon Srips
Dijon Mustard
Tooth Picks
Ok, slice the hotdog lengthwise but not all the way through. Layer some Dijon Mustard in the slice, then layer the cheese and then the pickle. Take one piece of Bacon and secure one end with a toothpick to the hotdog, and wrap the entire dog with the bacon, securing the other end with another tooth pick. They look like this when they are assembled.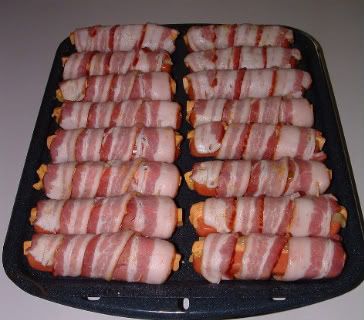 Place on a broilder pan, and broil until bacon is crisp. You will need to turn the dogs so all sides of the bacon are cooked completely. Please note that you will lose some cheese.
Here is what they look like cooked: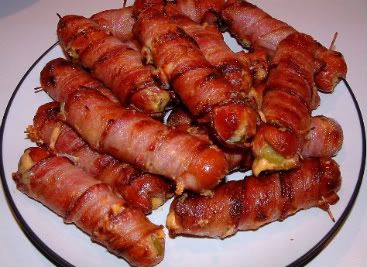 I DARE YOU TO TRY THIS. You think you won't like it... but you will. I have made these for many many skeptics and all end up asking me for the recipe. These are delicious and a great finger food! For a fun variation try using mini hotdogs for finger foods at parties. I gaurantee everyone will want this recipe!